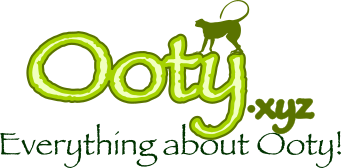 Which is the best, Ooty or Coorg? This is difficult to compare and equally difficult to chose, if you have to pick one between the two. That's the very reason why you are reading this, probably!
Nevertheless it is possible for you to pick one, based on your tastes and situation...read on.
Let's compare and contrast a few factors between these two immensely popular destinations. By the way Ooty town is in Nilgiris district of Tamilnadu while Coorg district is in Karnataka. Both Coorg and Nilgiri are border districts, Wayanad in Kerala is common neighboring district for both Nilgiri and Coorg.
Before we proceed further, take a look at the area we are talking about. Coorg is a very large district compared to Ooty, which is a bigger town in Nilgiri district. Even then, Coorg is almost twice as big as Nilgiris in area. So are the spread of attractions in these regions.
Historically, Ooty has been a very popular destination since long, while Coorg remained as one of those secret destinations. Romanticized as the 'Queen of Hill Stations', you are more likely to meet people who have been to Ooty than to Coorg, which is often quoted as the 'Scotland of India' or 'Kashmir of South India'!
Places & Attractions:
Ooty is a pretty well 'discovered' tourist destination. It's tourism circuits are well established. You'll do it in a checklist like fashion in Ooty. While Coorg has its own popular circuits, it's likely that you'll find a few hidden gems at Coorg!
Ooty is a small town with most of the attractions are location inside or at short distance from the town center.
Coorg is a larger district. You're first going to select a base town in Coorg, like Madikeri, and workout your sightseeing itinerary accordingly.
In Ooty the must see attractions include The Botanical Garden, Ooty Garden, The Nilgiri Mountain Railways and a number of viewpoints like Dodda Betta
Coorg's prime attractions tend to be Nature like waterfalls, mountains, temples like Omkareshwara Temple, Talacauvery and Padi Igguthappa temple, view points like Raja's Seat, Fort , Dubare Elephant Camp , Tibetan settlement at Bylakuppe and so on.
Relatively, the Coorg attractions are quite spread wide, one need to pick and chose based on interest and time in hand.
Access :
Both are located in mountainous terrain with narrow curvy roads leading to it. From a connection standpoint Ooty region seems to score well compared to Coorg region. Additionally Ooty has a slow but immensely popular railway line connecting with Coonoor and Mettupalayam.
Road conditions and public transport options seems better in Nilgiris than in Coorg. It's quite possible to rely on the local transports to experience Ooty. In Coorg you would require some sort of private transport for many destinations.
Climate :
Both Ooty and Coorg are cooler, misty and a bit wet and messy during the monsoon season. Ooty seems to be a bit more cooler during the winter months than Coorg...
Ambiance:
Both Coorg and Ooty has that romantic air to its atmosphere, the kind of one you would see in a Bollywood movie or even in a picture postcard. Ooty fares a tad better than Coorg. Keep a bit away from the 'touristy Ooty', and if possible try it at off season, it's perfect!
Experience Local Culture:
The hallmark of Coorg's tourism revolves around the culture of this region with equal measures of what its Nature as to showcase.
It's interesting to note , both Nilgiri and Coorg region has its indigenous people since time immemorial. The Kodava's of Coorg were martial clans with their unique heritage including language, costume and cuisine.
In case of Nilgiris it's the Toda tribe lived in oblivion for very many centuries. Though they still are a closed community, that outlived many challenges, Nilgiri is home to this Badaga speaking tribe.
You'll have a brilliant opportunity to enjoy the Kodava hospitality, as a phenomenal number of these plantation homes have opened their doors to guests in the form of homestays.
If it excites you to stay in a large home, in the middle of a sprawling plantation , enjoy the home cooked local delicacies, watch a plantation life up close - look no further. It has to be Coorg!
In Ooty, the Toda lifestyle experience is limited to those Toda craftware stores and the showcase of those intricately built Toda huts and museum artifacts. As a tourist, it is less likely that you can get a first hand experience of Toda lifestyle.
Also it's more getting progressively difficult to experience the colonial heritage of Ooty, in the overcrowded Ooty.
Action:
Both Coorg and Ooty has action packed destinations. We mean here those less touristy stuffs like hiking and adventure sports. Coorg region has many trekking hot-spots, so is places around the Nilgiris. Whitewater rafting, Quad Biking,
, Kayaking, Flying Microlight...Coorg seems to score better.
Nature & Wildlife :
Both are on the edges of the Western Ghats, hot-spots of bio diversity and wildlife. There are quite a few wildlife sanctuaries and National Parks around both the places. When it comes to the touristy side (read as safari) Mudumalai is better accessible from Ooty than Nagarhole in Coorg.
When it comes to core wildlife tourism experience point, Nagarhole region wins hands down with a plethora of wildlife lodges and resorts fringing this region.
Plantations:
Coorg grows coffee while Nilgiris' is tea. Well, that a generalization, but broadly true. Visiting plantations are high on the agenda in both the places. Coorg seems a bit more sophisticated in this department with its options like plantation walks, plantation stays and so on. Some of the upscale resorts in Coorg are in the midst of sprawling coffee estates.
Stay :
Ooty is far more developed as a tourist destination than Coorg. You'll find all budget accommodation quite easily at Ooty. The same thing can not be said about many towns in Coorg, which is still essentially a plantation region. As a backpacker/low budget traveler , you'll find far more choices in Ooty than Coorg.
Conclusion:
Both Ooty and Coorg makes excellent destinations. Ooty seems to be a bit more on the mass tourism side while the highlights of Coorg revolves around handpicking and your holiday theme and customizing destinations.
Those looking for solitude will discover many choices in the Coorg region. Ooty seems to satisfy those looking for a sightseeing packed excursions.
As a destination, Ooty has reached its peak, it's a well oiled tourist destination. Ooty will satisfy your expectations.
Coorg seems still discovering itself. Coorg hides many surprises. If you are a tad adventurous, look for one such place in Coorg.