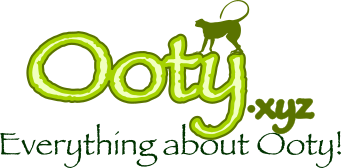 Let's see the driving directions if you are taking your car ( or bike!) all the way to Ooty. Bangalore to Ooty
There are basically two routes to reach Ooty from Bangalore. The first one is via Mysore ( Route A / SH17 ), and the other via Kanakapura & Chamarajanagar ( Route B ).
Both the routes finally join at a border town in Karnataka called Gundlupet, before entering Tamilnadu.
For your convenience a few maps of the Bangalore to Ooty routes are added here. The distances mentioned are approximate and not all the places en route to Ooty from Bangalore are shown.
Like mentioned earlier both the routes from Bangalore to Ooty converge at Gundlupet. From this point onwards the road has to go through a forest before arriving at Ooty. The forest saddles both Karnataka and Tamilnadu states across their border.
On the Karnataka side the forest is called Bandipur National Park while the forest on the Tamilnadu side is called Mudumalai Wildlife Sanctuary.
Both are tiger reserves and National Parks of importance. The forest is part of the larger Nilgiri Biosphere which is proposed be declared as a UNESCO World Heritage Site. In fact the whole forest falls in Western Ghats.
If it happened to be a herd of elephants crossing the road, stop your vehicle well ahead. No honking to chase them away. They many not respond to the horn the way you would expect. Be alert and wait patiently till they fade away from the path. They would any way. A lone ( bull) elephant is especially ferocious if provoked.
Now let's see the route that is going through the forest. By whichever way you've selected (via Mysore or ), it finally arrives at Gundlpet.
After about 20 km from Gundlupet you'll reach Bandipur National Park . The road passes through a wide gate. Many kilometers later, in about 20 minutes, you'll arrive at the tourist zone of the Bandipur National Park .
The forest safaris are operated from here. So its is highly likely that you are greeted with a noisy holiday crowd than say wild animals in this area. However as you drive past it is very much possible to encounter some wildlife across your path.
The most likely candidates are Spotted Deer, Nilgiri Langurs, Bisons, Mountain Squirrels, Elephants and so on , in that order. If you are still luck you would spot a herd of elephants crossing the road. Consider it as a jackpot if you happen to see a Tiger or even a Leopard, as they are very shy of human presence.
Immediately after Bandipur , you enter Tamilnadu state. A huge gateway with 'Thank You . Visit Again' board by Karnataka state bids you goodbye. Across the river is Tamilnadu .
At both side of the border are check posts. They stop the vehicle and check for collecting details (like travel itinerary, vehicle credentials etc ) . It is more likely the Tamilnadu side checks for the baggage as you enter the state.
You are not supposed to carry any banned objects (a gun!) into the forest; more importantly they are concerned about tourists carrying liquor. So another word of prudence here!
After crossing into Tamilnadu you reach a place called Theppakadu. It is in fact a junction. From this point there are two routes to Ooty. One via Masinagudi , which is shorter but riddled with steep climb and hairpin bends ( 36 of them!) . The other is via Gudalur, the regular bus route to Ooty.
From Theppakadu the route via Masinagudi is on your left. The road cross a river ( Moyar ) and you are on the way to some tough but thrilling drive.
Be aware that this road is kept closed during the night for safety reasons. If you are planning to go via Masinagudi route be sure to reach the entry point of the road well before, say 5 in the evening.
Though appears shorter in distance to Ooty do not take the Masinagudi route if you are not an experienced ( in steep narrow ghat roads) driver. In any case Masinagudi is a popular destination among the trekking enthusiasts.
Masinagudi also a sought after destinations for its resorts and homestays. So decide dased on the above facts if you would take the Masinagudi route.
Both the routes – the Masinagudi and Gudalur routes – finally merges some 6 kilometers before Ooty town.
Back to the Bangalore to Ooty routes once again. Before leaving Bangalore city you need to select between Route A ( Mysore) and Route B ( via Kanakapura). If you prefer to go via Mysore , you will take the Bangalore – Bidadi – Ramanagara – Mandya – Mysore route.
On the other hand if you chose to drive via, Chamarajanagar (ie Route B ) from Bangalore, the route you need to follow is like this. From Bangalore head towards Kanakapura (there is an exit on the NICE Road). Then the road takes you to Malavalli , Kollegal and Chamarajanagar.
From Bangalore up to Chamarajanagar the road is essentially the NH 209. From Chamarajanagar take the diversion to Gundlupet. From Gundlupet head towards Bandipur and then to Ooty. This stretch of route from Gundlupet is common for both Route A and Route B, as explained earlier.
Before we leave this section a short comparison between the Route A and Route B. The route A , the is the Mysore route is somehow preferred over the Route B , that is via Chamarajanagar. The simple reason is the Bangalore Mysore route (though not a national highway as Route B ) is well developed , wider and with good quality of traveler facilities on the way. The same can not be said about Route B, though it is a reasonably good road to drive, and many time with less traffic.
In short the Bangalore – Ooty route options are like this:
Bangalore – Mandya- Mysore – Gundlupet – Bandipur – Theppakadu – ( via Masinagudi or Gudalur ) – Ooty
Bangalore – Kanakapura – Chamarajanagar – Gundlupet – Bandipur – Theppakadu – ( via Masinagudi or Gudalur ) – Ooty
See also Bangalore to Wayanad for additional routes around this area.
That's about the road options. By any chance if you are not a fan of road travel, consider the train option. It is technically possible to travel all the way from Bangalore to Ooty by train. The nearest major railway station for Ooty is Coimbatore.
Both Tamilnadu and Karnataka state corporations operate many schedules between Coimbatore and Bangalore.
Bangalore to Ooty by bus is also a popular option.
By the way Coimbatore has an airport located in the outskirts , 15km off the city. There are a few direct flights from Bangalore to Coimbatore.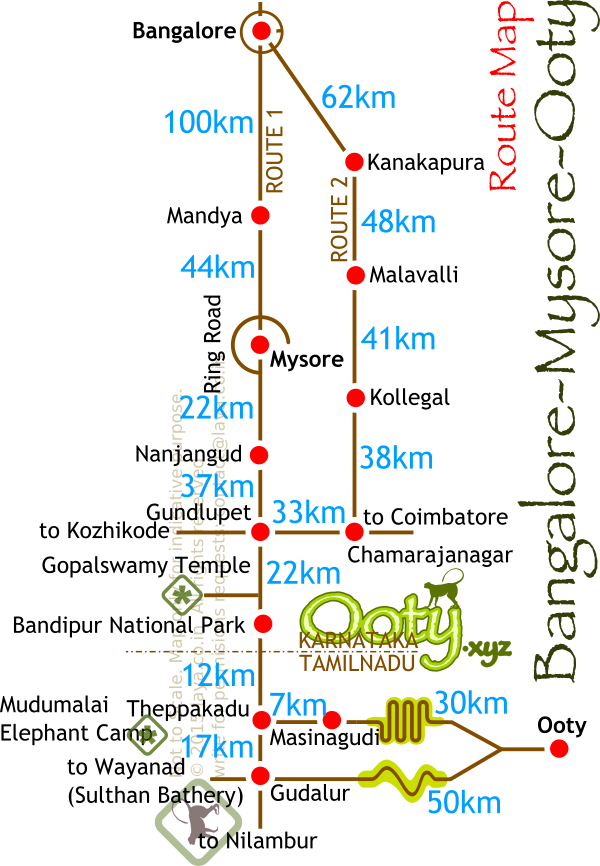 Bangalore to Ooty Route map. Bangalore to Ooty Distance is about 300km.
The two major road routes to Ooty from Bangalore: Route 1: Bangalore – Mandya- Mysore – Gundlupet – Bandipur – Theppakkadu – ( via Masinagudi or Gudallur ) – Ooty Route 2: Bangalore – Kanakapura – Chamarajanagar – Gundlupet – Bandipur – Theppakkadu – ( via Masinagudi or Gudallur ) – Ooty See also Bangalore to Ooty road route for driving directions and road conditions.