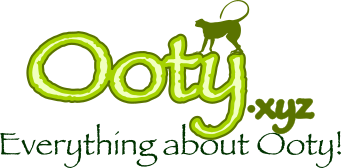 Nilgiris is a sprawling mountainous district with many attractions scattered around 3 of its hill stations - Ooty, Coonoor and Kotagiri. A great number of popular attractions are in and around Ooty.  You'll need many days to cover all of them.
It's less likely that you can cover all of them in a limited day vacation. There are some attractions that is in the 'must see' list like the Botanical garden in the Ooty town. There are also distant attractions near Kotagiri, which is about 28 km from Ooty.
Do some research and make your Ooty itinerary based on your taste and time at hand. Many people would be happy with 3 day itinerary to cover Ooty and nearby places.
Botanical Garden: The ooty garden is in the must do list. Established in 1829, this sprawling needs many hours to explore (½ day minimum). Opens from 8am till 6.30pm everyday.  The terraced and landscaped garden has many themes like the Japanese Garden, Italian Garden , Glass House, Open lawns etc.
Beware this is the prime attraction in Ooty, with overwhelming number of tourists queuing up for ticket, especially during those holidays seasons.
Botanical garden is located bit north of the Charring Cross, the main road junction in Ooty town.
Rose Garden:    Another must do for the horticulture buffs. With an astonishing 2800 variety of roses, this is the biggest collection of roses in the country.  There is a variety named after Jayalalitha, the chief minister. Visit rose garden during the season.
Rose Garden is located south of Charring Cross. Opens from 7am to 6.30pm.
St Stephan's Church: This small church built in Gothic style is one of the oldest structures to come up in Ooty during the colonial period. Obviously this is the oldest church in the Nilgiris. The massive teak beams were brought from the Tipu Sultan's palace in Srirangapatna, near Mysore.
Make it a point to visit the cemetery located in the church compound. Many of ooty's pioneers are buried here, including John Sullivan, the founder of the town.
Ooty Lake : Located west of the Ooty railway station, this artificial lake is the hub of tourist recreation in Ooty. Boating, toy train (not the Nilgiri Mountain Train ) , pony ride etc are the attractions. Add it in the itinerary, especially if you are touring with children.
Doddabetta : This is essentially a viewpoint located about 10km east of Ooty town. On a clear day you can see the flat plane of the lowland merging into horizon. Visit to Doddabetta involve a mini trek where the motorable road ends.
Sim's Park: Though smaller in size relative to the Ooty Botanical Garden, Sim's park located near Coonoor town has its own charm. There are over 1000 species of plants including the Maple Tree with spectacular star shaped leaves, a native of north America.
Tea Gardens: Ooty has several tea gardens (plantations) . Some of them has tourist interpretation center. Get narration on the tea processing. Buy many varieties of flavoured (heard of vanilla tea!) as well as  natural tea as souvenir.
Pykara:  Located about 20km northwest of Ooty town, Pykara is all about Nature, adventure, waterfalls, boating and so on. Do Pykara as a day's excursion from Ooty.  Pykara also makes an interesting detour off the NH 67, if you are driving towards Wayanad or Mysore.